About
The library is non-profit and all our workers are volunteers. The money we receive from research fees go towards keeping our library and society functioning. The library is housed in the former residence of Georgiana Peet Miller, who donated her house to the society upon her death. The library started in her basement and has since moved into the main house. The downstairs houses our office and library dedicated to Gratiot County.
GCHGS Officers for 2016-2017
President – Karen Emery
Vice President – Maureen Murphy
Recording Secretary – Jim Goodspeed
Treasurer – Mary Humm
Directors – Jim Bowen, Cecille Bowen, Janice Nicewander, Barbarah Unruh
GCHGS Board Chairman – Karen Emery
Genealogy Library Volunteers
Top L to R: Helen Guernsey, Velma McClintic, Wanda O'Boyle, Carol Merchant, Janice Nicewander, Gloria Shepard, Joan Mulder
Bottom L to R: Lorna Sebring, Judy Root, Carol Douglas
Other Contributors
| | | |
| --- | --- | --- |
| | | |
| Linda Weburg and John Kemler, Museum Curators | Judy Root and Linda Weburg, Newsletter Editors | Juliette Johnson, Webmaster |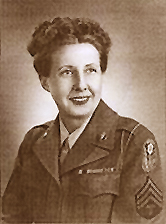 Georgiana Koskette (Peet) Miller
(20 Nov 1905 – 21 Oct 2000)
Georgiana Peet Miller was one of the founders of the Gratiot County Historical Society. She talked the group into becoming a genealogical as well as historical society and started a genealogy library in her basement. Later she designated the society as benefactors of her estate. Her gracious home is now a center for GCHGS meetings and activities. The Genealogy Library occupies part of the main floor, with a Michigan Room and Out of State/Out of Country Room on the second floor. The Peet Trust also provided income to maintain the property.
To view a full biography of Georgiana Peet Miller, please follow this link.